wanna be strong and never give up like man.united :)
Monday, August 8, 2011 • 8/08/2011 09:01:00 PM •
0 comments
Hello guys, watch football last sunday? Manchester United at full throttle, red arrows in human form, flying forward and unleashing all their skill, character and squad resources first to reel in opponents and then send them reeling.
Aww, Rory Smith marks how the Manchester City and Manchester United players rated in the Community Shield at Wembley on Sunday.
Nobody really needed reminding of United's
but they demonstrated it anyway: never give up, death or glory, attack, attack, attack. This was only the Community Shield but it was also the Manchester derby. Trailing 2-0 at the break, and then Nani and Chris hentam man.city wehh !
Tahu tak gila gempak man.United jaringkan goal. daripada 2-0 yang dimenangi oleh man city then man.Unitd dengan gagah dan perkasa menjaringkan goal berturut-2. Finally, the winner is Man.United, Yang telah digoalkan oleh Nani, 2-3 :) that's my fav team <3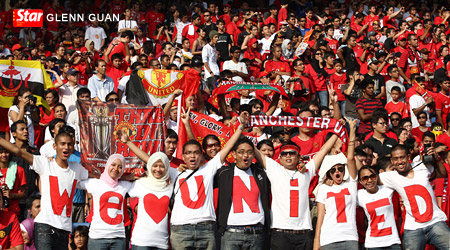 my mom : Don't waste your time.
me : mom, see?? gila gempak perlawanan tadi. HAHAHAHA. tgk tak camane chris smalling goalkan?
my mom : tak masuk exam pun kann..
me : oh, okay. -.-'
Okay, That's all. Take care guys. My mom pegang laptop ouh :'( So I cant typing again. Maybe until my spm is over. grr! Jaga blog kite elok-2 eyh.. HEHE. muahhhh :-*
The name given is Aqilah Zahirah Zulhisham. She loves to blogging since 2007 :)She lives in Kuala Lumpur,Malaysian. There is her own story of love and disappoinment, grief and happiness.



Diary About
 Sweet Stalker
Hi readers! Tekan iklan bawah ni untuk dapatkan duit :) masyukk !!
Template By:
Umi Humaira
Owner:
Qilaazahiraaa